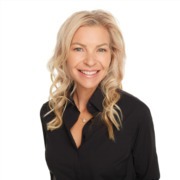 Born into an entrepreneurial family and having owned and operated her own business, one might say that attention to detail, customer service, and people skills are in Kirsten's DNA.
With an innate passion for Interior Design, Kirsten is known for creating elegant and timeless interiors that reflect her client's specific tastes and luxurious lifestyles. 
Having spent years as Principal Project Manager and lead Interior Designer of a full-service Interior Design and Construction firm here in YYC, Kirsten specialized in transforming interiors, extensive renovations, and luxury custom home builds.
Passionate about the industry and grateful for the creative projects and her amazing clientele, Kirsten made the decision to expand on her love of homes and enter into the world of Real Estate. With both her drive and experience, she inherently knew she could flourish by leveraging her knowledge and skills to better assist both buyers and sellers.
Kirsten strongly believes that your home is your sanctuary and understands that a home is more than just a place to hang your hat… it's where you make long-lasting memories. 
Kirsten is committed to taking the time and extreme care in understanding her clients and their goals when it comes to buying or selling. Her caring and compassionate character make her a true RARE agent for all your real estate needs.
When not busy showing beautiful homes, Kirsten's 'favourites' include:
kids:  2 grown that she's convinced will never leave home |  pets:  fur baby named Dexter | love:  her Peloton |  food:  anything farm to table | drink:  full-body red | color:  pink | heels or sneakers:  both | music:  country | favorite song:  "let it be" by the Beatles