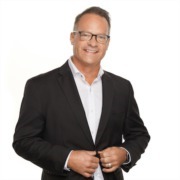 Brian is a passionate customer service specialist with over 20 years of experience in the Event and Hospitality industry. Brian's dedication and work ethic is obvious to everyone who's ever worked with him. He welcomes any challenge and always goes the extra mile. He can truly say that nothing gives him more satisfaction than pleasing clients and prides himself on being trustworthy, dedicated, and reliable in all he does.
As a Wedding Specialist for the majority of his career, he had the honour and trust of his clients during one of the most intimate and important events in one's life. He received consistent accolades for his attention to detail, most importantly his ability to translate people's visions into reality and a knack for remaining calm under pressure. Brian always considered it an honour when clients put their trust in him to ensure this major life event was perfectly executed and surpassed their expectations! 
Weddings can be stressful, but when Brian walked in the room, any stress or anxiety immediately disappeared. This was the most rewarding aspect of his career.
Brian brings this same obsession with customer satisfaction and attention to detail to his new role as a residential real estate agent. Similar to working with couples and planning a wedding, he understands that each client is unique and that buying (or selling) a home is one of the biggest decisions and investments a client will ever make. 
He firmly believes that a home is more than "bricks and mortar."  The perfect home is like the perfect wedding, it takes time to find the perfect match, and when you do… it's important to be surrounded by trustworthy experts who can guide you home. Brian understands a home is so much more than just the physical specifications. There are also emotional needs and uncovering the key motivations and desires that are critical to consider in this life-changing journey. 
Brian has seized the opportunity to pivot professionally and now brings these RARE skills to a career in residential real estate. His work experiences, personal interest in real estate, and engagement in social media are a perfect fit with RARE GROUP at Coldwell Banker Mountain Central in Calgary. 
In addition to his keen interest in everything real estate, he enjoys mountain hikes, golfing, and spending time with family and friends. He also has a special place in his heart for miniature dachshunds!